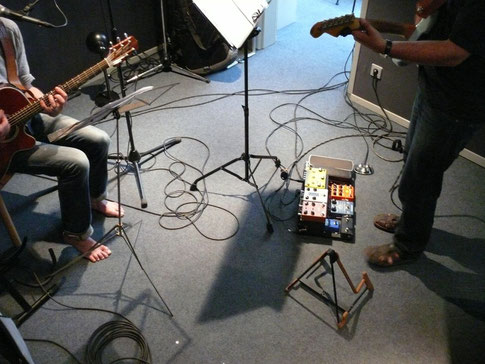 Auf die Frage nach den Einflüssen ihrer Musik hat Thomas Eisen einmal Lester Bangs in seinen "unreleased Interviews" geantwortet:
"Natürlich haben wir alle viel Musik gehört, und irgendwas davon
ist in uns haften geblieben, arbeitet weiter und verwandelt sich zu Eigenständigem… Nach Einflüssen gefragt zu werden impliziert immer, dass einem die Originalität abgesprochen wird. Wenn wir jetzt sagen würden, einer unserer Einflüsse ist Shuggie Otis,dann würden alle nur noch versuchen, Shuggie Otis aus unseren Songs rauszuhören. Das ist aber nicht Shuggie Otis, das sind wir."
wiara bad'wann is mei liebe - bis zum rand gefüllt mit bluat
es riacht nach eisen und nach wahrheit - und nach sachen die man sonst ned tuat.
steigst du eine in mei bad'wann - kommst zu mir und bist bei dir
kriagst du mehr als was dir dacht hast - und a ganslhaut ois wia.
kumm, wir tauchen immer tiefer weu mei bad'wann hat kan grund
kriegst ka luft ned is ned tragisch: dann mach mer mund zu mund
des bluat is warm und es schmeckt bitter - es is rostrot und auch sehr dick
komm, wir füllens uns in ein flascherl und dann trink mer auf unser glück
es kenntat sein du fangst an ins schlempern - oder es graust dir, möglich is
dann is besser du steigst ausse - i versteh di scho ned miss.
bled is nur dir wird zu eng, du hast kan platz, du wüst mehr ruah
na, dann ziag mer hoit den stöpsl, der pegel sinkt und wir schaun zua
am wannenrand rostige liebe - wenn die trickert gehts schlecht weg
sowas nennt man dann ein trauma, doch auch ein trauma hat an zweck!
und dann knia i vor meiner bad'wann und reibs aus mit an scharfen salz
nimm an frischen waschl und wisch aus mit an schmoiz
beim nächsten mal füll i mei bad'wann statt mit bluat mit weissem schnee
des is zwar a bissl kälter aber wenn i haaß bin schmilzt des eh
wiara bad'wann is mei liebe - was da drin is waas nur i
wüst as wissen dann kumm eine, nur verraten wirst as nie.
nobody knows how strong my desire grows
and nobody will ever know - cause this aint no desire-show
40 days since you're gone, can't even get you on that fucking telephone
so here I am w/ a peach - I've heard those meremaids singin':
a strange and salty tune about your eyes and a swollen moon
they leave me feelin' breathless w/ a shiver underneath my skin
I'd like to read your lips and touch the brim of your hips w/ my fingertips
so many things that I would like to do but i wonder if you still want me, too
open your arms for me & end my insecurity
or say that we're still be friends - I'll take it to the bitter end
something inside me likes to say
those silly words we used to hide away (just like):
I love you, I need you, I want you so bad
you're the best that I've ever had
on the floor i'm lying in my living room
imprisoned by the doom.
it pulverizes my consciousnes:
unworthy fucker -
that's what i am, that's what i am.
now it's my turn to cry
no i'm not gonna die, gonna die.
to you it is just fair: live and let live;
but i wasn't prepared, and even if...
i lost my sense of humor
there's a leak in my brain,
let's discharge the sane.
the helpless wait for something
a sign from up above,
the cynics they don't wait,
they play their games on love and they're
making jokes about their fears,
drown themselves in cheers of beers.
they rattle w/ their chains,
they rattle w/ their brains,
to oversound the bell of change.
by the way i've hurt myself
i know, i'll stay alive
just to witness your resurrection.
finally i've cancelled all conections to outside.
fold my soul
and told my heart:
stay sober, stay smart!
keep that grinning in your eyes telling lies.
all the guys they just wanna know
who you are and where you go -
it's none of their business, not at all.
get up early in the morning/pick up the telephone
hear the words you are saying/on my own
tired eyes are burning/feel just like a fake
JEALOUSY IS WIDE AWAKE
every time i see you/love is a bird that sings
i am strong and sober/miles away from jinx
but that's not very often/this bird has flown
I DON'T WANNA LIVE ALONE
the story that i've told you/you've heard it more than twice
you don't need my oppinion/you don't need my advice
just follow your feelings/but don't go too far
LONG DISTANCE LOVE - is leaving a scar
 i tried to air the smell of perfume
out of the blanket before you'll realize it.
cause i don't want to lose you
don't want you to cry no more
but there's something we can't ignore:
time flies by and waiting doesn't help too much.
i've lied and i've cheated
had a Pinocchio nose
and that's just because i was afraid
that we both could get too close
and i never ever will be free
i don't want you to amuse me
i just want you to:
come on home
i'm climbing a mountain, the highest one you can see
swimming through the rivers and dive the deep blue see
to find my baby, to bring her back home to me
but i can't find her - uh, she set me free
i'm leaving you baby, my woman told me last friday night
when you're awake, you'll find me out of sight.
after all those years you just don't know, how to treat me right.
an empty room - and a lonesome heart,
that is all you've got, when your woman's gonna part
i'm looking for my baby, to ease my pain
from the cold of Alaska to the heat of Spain,
i'm looking for my woman, ev'ry place i know,
from the castles of Denmark to the Gulf of Mexico
but everywhere i go i'm on the same old killin' floo
still you want me to explain the reason why i'm causing you pain
i know, woman, that you've been hurt cause I've lied w/ every single word
honest I do

still you want me to explain the reason why I'm causing you pain
I know woman that you've been hurt cause I've lied w/ every single word
Hey, baby, it't time to say goodbye
and after all there's no reason to cry
and i you'll ever see me
don't you try
to kiss my cheek
just walk on by
some days were like gold, like the autum sun some nights i thought, the day will never come
it was you who said that i am strong and it was me who said: baby you're wrong
i feel sorry, honest i do. but i wouldn't belive me, if i were you.
sorry is the worst word for someone like you. so please forgive me and forget me, too
i had to say goodbye
to the lightning smile 
that i've never seen at all
i had to wipe away
the the tears and the pain
that stupid mental wall
i heard your name from your wounded Mama's mouth
i buried a toy in that magic wood down south
dreams of storytelling
funny games in the meadows
you and me, and angels
now we're on our own
hope that you are not alone
Louise
goin_home
well, the party was a desaster
make me slam the door and I run away like hell
and i couldn't even play my telecaster
you were wondering why but i cannot tell why
all i gotta do is run
run, cause the party was no fun
all those pimps and chicks waving w/ their stupid wigs
all i gotta do is run
confusion spread in my head
it's your birthday party and i don't act like that
but actors and dancers w/ a mouth full of led
brainwashed dandys they make me go mad
all i gotta do is run
run, and waiting for the sun
sitting on a bottle of Bud and a DJ in the mud
all i gotta do is run
but when the night is over and my feet are cold as ice
the birds are singing a song
about a lover waiting in a dungeon of despair
i change my direction and move my bones
the party was a desaster
a waste of time full of cigarette smell
i was running like hell and even faster
you were wondering why and now i can tell that
all i gotta do is run
run, cause you are the one
i'm not running away from you, i'm running cause i'm loving you
run - cause you are the one
lord knows it ain't easy staying sober and true
the temptations are many and the exits are few
all the women in their short shirts w/ that look in their eyes
make me wanna jump off my clothes, doing things, going home, telling lies
it was just a few days back, i thought that i'll lose control
i had the nose in a woman, she had a funky parole
we were getting very thight then, i felt the pumping of her heart
but the moment we touched our lips i went sad and i pushed her apart
i said:
sorry honey, but there's one thing i can't learn
i'll always get my fingers burned
even though it's nice here by your fire
i had to get my hands off that hot desire
no i don't want to betray you, neither putting you down
but it's lying in my blood, i have to play around
w/ all the other women that i have to refuse
but i wonder sometimes what's the need and the sense and the use to refuse
she said:
sorry honey, but there's one thing you should learn
you better not get your fingers burned
and even though it's nice there by them fires
you better get your hands off that hot desire
middleaged men wia i fehlt manchmal die Phantasie
sie stecken fest im Treibsand der Maschinerie
Sie zahlen brav ihre Steuern
bringen die Kinder in die Schul
Sie tun das was verlangt wird 
und fühl'n sich doch - wia a middleaged Null
middleaged men ham a bissl an Respekt verdient
warum sieht denn keiner, was sie niederringt
zum Sterben ist's zu zeitlich
für'n Rock'n'Roll zu spät
sie merken jetzt ganz deutlich
dass die Zeit zu schnell vergeht
middleaged men könnens ned fassen
da hackelst 30 Jahr und dann wirst entlassen
für die Kinder bist a Kasperl
der Gattin bist zu fad
die Freund san alle eing'spannt..
middleage is wirklich hart
da war doch a Traum, da war doch a Ziel
hast du's schon vergessen schluck die klane Pill'n
und glei geht's dir wieder besser
der Pirat in dir erwacht
das Meer singt seine Lieder und du merkst.
es geht ja doch - noch!
mei Schiff is oid aber es hat Segel
und an Koffer voll Medizin
der Wind weht mir in' Ruckn
i waas nur ned:
wo waht er mi hin
middleaged men like me they're often lose their fantasy
cause they're struggling w/ the quicksand of reality
they're paying all their taxes, send their kids to school
they try to make things right but still they feel
like middleaged fools
middleaged men deserve a litte sympathy
so how come that nobody sees their tragedy
they're too old to rock'n'roll and way too young to die
and still there is no comfort cause they feel
how time goes by
middleaged men sometimes grow tired
and sooner or later one of 'em gets fired
become stranger to their children and big bore to their wifes
losing all their credits and sometimes end
their middleaged lifes
dreams to remember, dreams to fullfill
if you forgot how to dream then take one of those little white pills
and still you are a pirate, standing on the shore
your ship's out on the horizon, so what are you
waiting for
THAT'S ALLRIGHT
i'm lying here on the floor, where you've layed before
i'm drowning in a pool of waterproved carped-wool
but that's allright
i'm looking at your back, wonderin' if you're looking back
but you've turned around the corner and you've been heading for your train
we'll probably never meet again.
but that's allright, that's allright
you can't win ev'ry fight
and we've made love that night
i tried to call you up, i tried i one more time
you must have seen my name on your display, you must have seen my name
but that's allright...
4 NUTHIN'
as you lay down beside me you ask me what it is that i'm lovin' you
but i can't talk in that kind of position, so i've rolled on over to your ear to tell you a truth, said:
i love you, love you 4 nuthin'
and nuthin' is better than the rest
all your friends, your brothers and ex-lovers, they can't belive what they see, can't belive what they hear:
that you are in love w/ a no-win-kind-of-person like me, playin a no-win-game; they want me to disappear.
but i love you...
and everytime you're gone i'm tossed
and everytime we're apart i'm lost
and everytime you hear me singing this song only half of the words are true
cause you're inside me and what's inside me i can't lose.
as i lay down beside you i'm watching you, how you sleep and how you breath
and i vanished completly in your rhythm so i found out that no riches can compare to these
cause i love you...
DIDN'T SEE IT COMMING
you've been around the world/7 days a week
working w/ those masterminds/do the super-freak
all you got for me/is a little talk on the phone
how long shall i take this - on&on&on&on
you're always on a plane/from Bombay to Bordeaux
all you have in mind/is that one-woman-show
while you're up above/you can't see what's on the ground
here i got some news for you it's - upside down
you did't see it coming, didn't ya
nobody ever told you/nobody gave you advice
finally when you're back on earth/you have to pay the price
there's a new name on the door/a new lock for my key
a note that's sayin "thank you for - set me free"
you didn't see it coming, didn't ya
SCHMÄH

heimat is für jedn was andres
für mi persönlich is da schmäh
der rennt und der mi eihoit
egal wohin i geh
heimat is a paar würscht
am Praterstern um hoiber drei
mit an schorfn pfefferoni 
und mit meim besten freind
heimat is a glasscherbn
auf die ma unterwasser tritt
man merkts ned, es bliad nur
und später erst kriagst as mit
heimat des san liada
sinnentleert und bledsinnig
ewigkeitn nimma g'heart
und trotzdem kann i's auswendig
heimat is a badewaschl
ned sehr gscheit und sehr präsent
heimat is a brucknglander
und a nasses hemd
sie geht ma oft am zager
weu sie is imma mit dabei
und host'as endlich abg'hängt
dann sehnst as herbei
heimat is für jedn was andres
für mi persönlich is da schmäh
der rennt und der mi eihoit
egal wohin i geh - egal wie weit i geh.
die Bühne is leer, die lichter verglimmen
und mei gitaar werd i heute nimmer stimmen,
verstärker brummen leise in mei'm hirn
sanft & zart.
wie Prometheus auf'm weg ins licht
wie Sisyphos beim gang zur nächsten schicht
schwing i den stock der erkenntniss,
solang bis er bricht.
Hoffnung is schlecht, Weisheit wär gut
nur mei kopf der weiß grad ned was mein mund so murrt
i bin ein leerer Aschenbecher in einem Tschecherl
ohne Gäst
i bin zu jung um dei Vater zu sein
und du bist zu oid, oisso bitte büd dir nur nix ein
vielleicht kommst ja vorbei nach der show
um 1/4 drei
die Bühne is leer, die lichter verglühn
und mei gitaar werd i heute nimmer spün
verstärker brummen leise in mei'm hirn
da tinitus!
manchmal wach i auf und es geht mir guat
die meiste zeit ist des ned der fall
mei pappn is ganz trocken, i red kaa wurt
in spiagl schaun is immer a qual.
mir sitzt a klaner teufl aufm schulterblatt
es regnet scho a zeitlang auf mei gmiat.
mei grant is wiara geier der seine runden draht,
a dobermann, der ned pariert.
des is alles ermüdend - was soll man no sagen dazua?
zu vü g'redt und nix is passiert - i wü eigentlich nur mei ruah.
i ziag mi öfter z'ruck, bleib lieber weg
bevor i no an wickl riskier
mei selbstwert fäult dahin im unterdeck
glei neben mei'm anspruch den i immer mehr verlier.
des is alles ned tragisch - was soll man schon sagen dazua?
zu vü g'redt und analysiert - i wü eigentlich nur mei ruah.
die meiste zeit lieg i am ruck'n
und hoff dass dann der teufl dastickt.
dass eam mei wut und mei hüflosigkeit
irgendwann amoi dadrückt.
des is alles ka drama - wer wü schon was sagen dazua?
zu vü g'redt und zu vü probiert - i wü eigentlich nur mei ruah.
irgendwann werd i lachen drüber - i waas;
a teufl am ruck'n, so a bleder schas!
aber heut is heut.
im eiskasten die bier san meine besten freind
des fernsehn macht mi richig schee miad
Da is immer einer der waaß wie's geht
und der dir sagt, dass er net versteht
warum's bei dir - net weida geht
Da is immer einer der waaß wüvü's steht
und der dafür sorgt, dass er in Führung geht
und dann ziagt er davon - das hat er davon
Da ist immer einer der dir erklärt
und der wann's sein muss di a belehrt
wer du bist und was du kannst - der scheint des zu wissn
und der macht si von dir a Büd
und der wird gern fuchsteufelswüd
wann du net erfüllst - was er von dir wü
I hab leider ka Routine/i kann machen was i wü
bin net zu gebrauchen/als Mandl in eicham G'spü
aber des macht nix/ des macht nix
es gibt Schlimmeres ois wia des
Da is immer eine die is diszipliniert
und die weiß worin sie investiert
und wenn sich's rentiert - wird optimiert
Ihr Blick is klar und er seziert
wer was kann und wer nix wird
wird aussortiert
Sie is so frei wiara Wolf im Woid
und ihr Herz is net immer koit
aber kontrolliert - damit ja nix passiert
Sie sagt, sie hat di zwar sehr gern
doch sie muss leider jetzt nach Bern
und da tätst du nur störn _ na dann lass eam schee griaßn
I hab leider ka Routine.....
i hob amoi an Freind g'habt, i waas ganz genau, der hat g'sagt in sei'm Leben is kaa Platz für'a Frau
jetzt is er Mitte 30, drei Kinder an der Hand und die Oide is eam ab'pascht, verzogen nach Unbekannt  - na ja
a anderer hat a Gerschtl, er lebt in Saus und Braus und dank sei'm Chirurgen schaut er no gut aus
aber die Schulden wern mehr und es geht si net aus und jetzt sitzt er mit'm Koffer vorm abbrennten Haus  - na ja
Na ja - ja eh
Des Madl is schüchtern aber net bled, es waas worauf's ankommt, es waas genau wie's geht
Sie sagt sie ist 18, an Ausweis hat's net, da war's für'n Herrn Minister sei Karriere scho z'spät
Na ja - ja eh
Des Leben fahrt fort  und jeder denkt, dass er lenkt
und hast di verfahren, kriagst a neiche Chance geschenkt
Na ja - ja eh
Er war immer der Beste er war immer vorn, er hat in sei'm Leben no kaan Wettkampf verlurn
A Platz im Olymp is eam vorhergesagt wurn und glei nach der Diagnose is er dann g'sturbm
Na ja - ja eh
die sinnlose lust und die dampfende gier
die stessn mi weg und wieder zuwe zu dir
a hand in der taschn und die zittert als wia
du hast was i wü, Schatzi, und des hol i ma jetzt  von dia
de ganze nacht schon auf autopilot
a kursänderung lindert die not
und mitten in der nacht leg i des steuer aus der hand
und horch auf die sirenen und schäl mich langsam aus mei'm  gwand
ned dass glaubst du bist ma wichtig, glaub nur ned es geht um di
i kann ganz allanig tanzen auf dem parkett der hedonie
nur wü i ned ohne di
nur ka falscher stolz nur ka falscher neid
in der offenheit liegt ja der reiz
mei gier is a glockn - stess an und dann läut's
i bin mit ihr verwachsen so wie der herrgott mit sei'm kreuz
pardon me, baby, there's just one thing i have to know
you've said that you love me - why you put me down so low
pardon me, baby, won't you help me understand
will you love me tomorrow or will our story come to an end
the light in your eyes - does it shine for me
or is it just a reflection, like oil in the sea
the smile on your face, is it cus your still impressed by me
or are you just laughing about the fool i used to be
pardon me, baby,  i just don't know what to do
will you hold on to us or did you find somebody new
pardon me, baby,  help me out of this misery
if you don't love me no more then please let me be
if this is a game then who's gonna lose
ain't it a shame that we're knee-deep in the blues
is our love alive or do you wanna be alone
baby just say so and don't you scare me to the bone
let me tell you, baby, from the bottom of my heart
ooh how i wish i could throw these troubles apart
pardon me, baby, lets make it clear
i'm so full of love, i'm so full of hate and i'm so full of fear
help me, baby - say what's on your mind